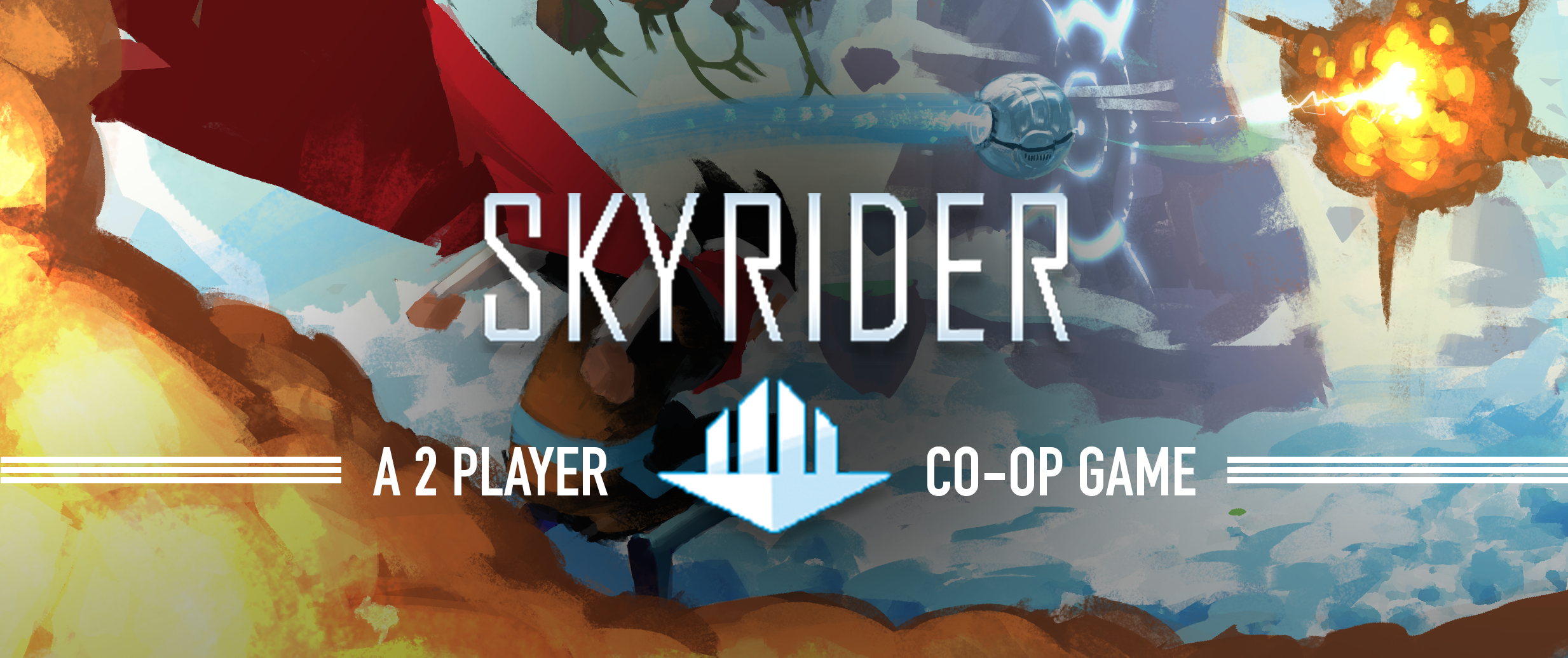 SkyRider & the Journey to the AirCitadel - Full Co-Op!
A downloadable game for Windows
A MUST: 2 PLAYERS!!!

HIGHLY RECOMMENDED: PLAY WITH 2 JOYPADS!!!
SkyRider is a 2 Player co-op action puzzle platformer game. One player will control Noki, jumping, fighting and collecting energy for his drone. The other one will control that drone: "R.O.B.O.T.O", making platforms, energy shields and shooting.
This is a 5 levels demo. Game is still in development.
Keyboard Controls:
'ESC' key: Show Joypad controls
'P' key: Reset Build
'L' key: Next level
Noki controls (Keyboard):
* Move around with 'WASD' keys
* Fight with 'F' key
* Change R.O.B.O.T.O.'s mode with 'E' key
* Roll Left with 'R' key and Right with 'T' key
R.O.B.O.T.O. controls (Keyboard & Mouse):
* Move around with directional arrows
* Aim with Mouse
* Place platforms with Mouse Left Click
* Make shield with Mouse Right Click while in defensive mode
* Shoot with with Mouse Right Click while in offensive mode
Credits:
Artist: Damián Fernandez Gomez
Programmers: Vale ZumZum & Federico Barra
Game Designer: Adrián Novell
Install instructions
Download
Unzip
Play
Enjoy
<3
Comments
Log in with your itch.io account to leave a comment.
I played an old version long ago.
There wouldn't happen to be a way to coop online? (using IP address?)
Anyways, here's the video:
Hi there! Thank you for playing it, right now we are polishing the game basic mechanics, next steps are adding content and making an online mode (via steam I think). :)
Hello, great game!
Only suggestion that I can give is too let the ball choose between defense and attack, is kind complicated whem you need to protect the other person but they cannot change with precision between stances.

Hi there Slitcher!
Thank you for playing :)
I see, some people love the fact that changing modes triggers a small talk and needs coordination. Some people hate it. haha. From a design point of view I can say that we are trying to experiment with cooperative mechanics, and that one aims in the right direction. But we are experimenting and feedback like yours is useful so we can decide later on if we will keep it or not. Thank you a lot!
I felt the frustration by controling the ball in the last stage, where I can't go in front of the guy nor shoot without his "permission".

The guy has almost all the actions of the game. He can Jump, Attack, Dodge, Choose the Stance for the other player, grab the power ups.
The other player only can build platforms and shields by itself,

Think carefuly, can be a great game with a lot of iteractions on the players and give a lot of rooms to level design, the last stage was amazing! Left me with a taste of "I want more...".
Thanks for the reply :)

Hey, the download isn't working.. is it supposed to download as a folder? Because it just downloads as a document..
It would be really helpful of you could help me understand what is happening!
Hi there! The file is actually a .rar file with an .exe inside of it. I just downloaded it in ordr to see if anything is wrong, but it semms everything's working just fine for me :/
Pretty good! The last level is a bit impossible though! If I were you I would make it a little easier. Keep up the good work!